1) SAMPLE PALM READING
HAND OF UNSUCCESSFUL CINE ACTRESS
Surprising transformations have taken place in the lives of many persons. A student who is 'dull' in school get sparkling success when goes to his field of interest, whereas a student who is always first in classroom, has satisfied in clerical job and regular pay hike. Vegetable seller has become a Minister, folk artiste has become an MLA, a labourer has become a big smuggler to whom entire Mumbai has feared. Persons who use spiritualism to attract thousands of persons has raised their assets. No one remember the charming cine actress who attracted many with her beauty in younger age, after ten years. Instead they found travelling from bus or railway. It is difficult to identify at that time. A woman who is never in discussion or handled chief ministership or Cabinet Minister, had become the President of India. If all things are in the hand of man, then surprises like these have never happened. Thinking of freedom of work and limitation is mandatory behind creation of this. Failure despite work. Success has got without any work. It is felt like that only destiny is not the real work; but circle can spin reverse. A cine actress named Soundarya (name has been changed) who had won the audience in her one or two films, died suddenly. Her hand has been showing here.
A) The concerned hand is slighting steeping. This hand showed artistic nature, looking beautiful and versatile attitude regarding art. The distance between life line and head line showed overconfidence, foolishness, eagerness and special attraction to opposite gender. Origin of line of fate from life line means such person makes his/her own destiny. She sang very well in her childhood days; but she later turned to acting and dance with degradation of voice quality. 'Yav' sign on the internal side of life line, so there are always health complaints.
B) 19, 20, 21, 22 ages have showed progress. Progress of art will take place. (in these years she presented acting and dance on the stage).
C) Age 23 has showed the chance of migration. (She came to Mumbai at the age of 23). From this period straight head line had kept control over artistic nature and made her practical.
D) Chance of marriage at the age of 24, fault in marriage line, no happiness from marital life and divorce at the age of 25.
E) Luck will favour suddenly at the age of 25. (in the same period one line headed to Sun from line of fate). Chance of popularity in society, money and richness.
F) Ages 26, 27 period of excellent luck. Good movements will take place. Ages 28, 29 period of degradation. Chance to end everything due to a wrong decision. (She married second time in this period. In this period effect line has connected with line of fate).
This marriage of her was not successful because many semi-circular lines are coming outside at lower side from intuition line. Habit of addictions due to the Via Lascivs line. Age 30, 31, 32 very average life and attacks of madness. [ 'yav' sign in head line] chances like to wander on the road purposelessly. The same woman had to involve in prostitution in her last stage.
[The concerned beauty had died while undergoing treatment in out-patient department of government hospital). Her dead body was carried on handcart as an orphanage. This is understood from the two lines in newspaper.]
SCIENCE INDICATING ABOUT FORTHCOMING INCIDENTS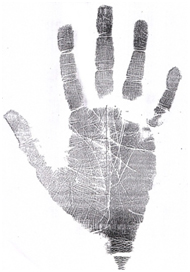 While taking efforts regarding business everyone experience the phrase 'Man proposes, God disposes'. Highly educated person is doing clerical job in a bank, whereas banks of 'dull' man run in profit. Science graduate becomes writer under illiterate. He becomes record keeper. Intelligent person who passed competitive examination and got merit has lagged behind. A person who has connection comes as his senior. Connection becomes useful. It means promissory note of promotion. A person who got bigger awards in literature has become additional division clerk in 'army's' account department. Is this called an injustice? Then why take education? Parents think that their son should be engineer. He says that he would become a doctor. While facing hurdles in examination, one day a luck has favourable enough to get admission in medical college. A year passed there, but again came to B.Sc. classroom. Then completed various courses, but they of no use. Then got easy degree of homeopathy by studying at home. Everything was over. Then clinic did not run. No farmland. Only the revenue through house rent inherited from the family. Ego does not allow to do any work. There was no coordination among wife, son and this strange person. Then magic and other superstitious act etc. Then marriage broke. It happened in reality. Let's see another example a youngest son while eating normal food talked about lakhs of rupees. Education had ended after failure in std. IX. After my guidance his father asked him to appear for SSC examination to get the mark non-matric. This mark has importance. Then admitted him to motor mechanic course. After completion of the course he did job for two-three years and has now owned a garage. A monthly income is Rs. Two-three lakh today. It is more than the ability. Only he follows right line (business). This is the wise move only. If every parents show this wiseness, money, labour and time are saved, but, who will give right advise? The answer of this is palmistry can be used very well for business guidance and education. This is proved from many examples. In addition indication of forthcoming difficulties in life has got from the study of hand. But it is in the hand of that person to use it.
JUDGING OF SAMPLE HAND (MARK)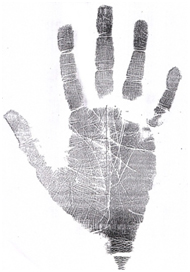 1) Mount of all planets on hand are developed very well. Work success and fulfillment of desire. Distance between finger of sun and small finger shows activeness. It means ability to convert the thoughts in mind into a reality. Two lines of fate on hand. Two means of income. Line line which begins from the mount of Jupiter shows very ambitious nature. Bigger line of sun on hand means money, success and fame. Cross sign on mount of Jupiter means ability to overcome difficulties, happy married life and rich marriage.
2) Age 20, 21, beginning of line of fate. Age 22, 23, 24 is the period of progress. Age 24, 25 entry into the business and will own a business.
3) Age 26, 27, 29, the period of progress. Age 26, 27 chance of marriage, more progress will take place after marriage.
4) Age 29, 30 life will get successful turn. Luck will be favourable.
5) Age 31, 32 to 37 progress will take place at fast pace. Chance to own stable property and financial progress.
6) Age 37, 38 entry into double business, age 38, 39 there will be loss in additional business due to a wrong decision. Money loss will be possible. Age 40, 41 to 43 will be mixed period.
7) Age 44, 45 beginning of lucky period. Age 46, 47 to 54 will be a golden period. Benefits of huge money. Age 57, 58 to next life will be happy and satisfactory. The concerned boy came to me in the year 2001. At that time he passed Ixth examination. His father took the decisions as per my instructions. Today this boy has owned a four-wheeler garage at Pimpri-Chinchwad, Pune Maharashtra, India.
[The above forecast is not to praise self, but it is a praise of palmistry. Readers should understood this, it is a humble request.]
HAND OF SUCCESSFUL POLITICIAN
1) There are two lines of fate on hand. One line had originated from life line, whereas another line had originated from mount of moon. Meaning of the line which is originated from life line is it showed self-earned success, but home condition is also responsible for success. These persons are always taking hard efforts. Meaning of the line which is originated from mount of the moon is this person get help from the person of opposite gender and his life has become happy. In short, success of such person has dependent on the help of others.
2) As line of sun is big and straight, the taste of this person is of high level. This person has the quality to work at highest position in various fields. This person get money and fame easily in life due to this line.
3) As there is marked mount of Jupiter, this person has religious attitude and get post of position. cross sign on mount of Jupiter and 'yav' sign on the first part of thumb has showed happy family life.
4) One division from head line has showed an affection to a single person.
5) Start of line of fate at the age of 23. Chance to get stand on the feet, beginning of dutifulness.
6) Age 25 has showed change in life. It means chance of marriage. Luck of favour has shown after the marriage.
7) Luck will favour at the age of 26. At the same year this person has started working as engineer in PWD dept.
8)
Age 31 and half
entry into a business, progress from daring business.
9) Age 33, 34, 35 period of excellent luck, progress through double business.
10) Age 35 and half entry into politics, this person had become ZP president in first attempt. Age 39 ZP president.
11) Age 39, 40, 41, 42, 43 extraordinary success. Age 44, 45, 46 lots of popularity. (MLA in the same period) age 47, 48, 49, 50 a golden period.
12) Age 51 get bigger post suddenly. Success and respect in the society. Age 52, 53, 54, 55 to next period life will be happy and successful. (Today this person is Cabinet Minister in Maharashtra govt. and will get more bigger post than this, it is my guess.)
13) Age 27, 28, 29, 30, 31 the period of financial progress. Chance of own house, in addition chance of stable property. Age 31, resignation from the job.
'NO SENSE WITHOUT EDUCATION'
While explaining 'no sense without education' Mahatma Jyotiba Phule presented the losses before the people that happened due to non-sensible act . He himself spread the education. He educated his wife Savitribai and started first school in India for girls. For this he had face curse and verbal accusations by many. As time passes, everyone is taking hard efforts today for higher education. Illiterate parents are also dreaming big to make their children educated and successful. But how many get the chance of education? Some take higher education in adverse situation, whereas some do not progress well in education despite favourable conditions. Why this is? The formula of education and money, fame is very funny. A certain mechanic gets lots of money, whereas a certain lawyer has to sit idle despite high education. For example Vilas Moghe (name has been changed) was known as intelligent student from average family since primary school. He was making the school popular by after success in various educational competitions. He lost his self-confidence in schooling daysthough he was intelligent. Like Karna whose chariot wheel stuck in land at the time, he was forgetting everything during examination. His intellectual development got halted due to fault in head line on hand. But as adverse condition had passed, he became successful in business despite he left the education. Though there are no degrees at his name today, there is queue of vehicles before his bungalow. Instead Chandrakant (name has been changed) is the son of industrialist. Mother is literate and intelligent, best school, classes, appointment of renowned teachers for private guidance. All-round conditions are favourable. He stood first in school till std Xth. Parents especially his mother took hard efforts to avoid negligence in next education. She gave much attention to him. Chandrakant took the undue advantage of the mother's condition. He his pocketmoney increased. There was no problem of money. Chandrakant then got what he want and spoiled. With the school his discipline was over. Stating std. 11 is waste year he got indulged in …. He learned automatically the tricks to cheat the parents. He had addicted to liquor and gutkha. When time came to expose his self, he hid behind his mother. When his degradation was started in study, his mother brought him to me. When his hand was seen, his degradation was clearly seen. Today HSC failed is Chandrakant's eligibility.
JUDGING OF SAMPLE OF HAND (MARK OF HAND)
1) A single vertical line with mix of both heart line and head line. It means the confusion of intelligence, guess and emotion. Simian line after double head lines over each other means double standard nature. Two gridles of venus on hand showed bad habits like gutkha consuming, liquor drinking and restlessness. The Via Lascivs line shows the rise in the mentality to consume addictives like liquor and abnormal growth in sexual desire. While life line is progressing, a vertical line is seen on it and then life line has divided. There can be danger to life due to this.
2)
Age 16, 17 to 20 vey bad period
, hurdles in education and addictions.
3) Age 21, 22, 23, 24 show the educational period, but there are hurdles in it. Indication of very average period.
4) Age 25, 26 chance to stand on own feet.
5) Age 27, 28, 29, 30 financial progress but at slow pace.
6) Age 30 and half, 31 and half luck will be favourable. Indication of progress through business. Age 32, 33, 34, 35 to 38 is a period of progress.
7)
Age 38, 38 and half, 39 indication of financial loss.
Possibility of loss due to wrong guess (line of fate halted at head line). There will be loss on large scale. So
age 40, 41, 42 to 46 will be passing through financial struggle.
Once again attracted to addictions.
8) Age 46 and half, 47 show change of business. Age 48, 49, 50 back on financial track again. Age 51, 52 financial progress will start again. Age 53, 54, 55 to next life. Life will be stable.
[The above mark of Chandrakant's hand. He got saved due to timely alert of his mother, but he suffered from huge life loss). Chandrakant were big industrialist or officer, but today he is happy with food for two times.]
1) Leading portion of thumb is round like mace and both joints of thumb are hard. When such person is angry, he do not think about what is proper or improper. These persons have violent mentality. They are imposing. They will do any crime including murder.
2) Life line has been started from above side of mount of Jupiter. It showed the crudeness o f such men.
3) A single horizontal line having heart line and head line is called Simian line. It means there is confusion of intelligence, guess and emotions and a strange behavior has seen.
4) There are two lines of fate on the hand. It means progress from two busineeses, but as both lines of fate have ended at line of head, life loss will be occurred due to foolishness.
5) Griddle of venus has showed severe addiction, bad habit and restless mentality.
Cross sign on mount of Saturn has showed capital punishment or murder. The concerned person came to me in the year 2005. A good progress from two businesses was seen. Age 32, 33, 34, 35 was a golden period in his life.
At the age of 35 and half year a divorce took place.
This person was advised to control the anger, but a murder took place by the hands of this person at the
age of 36.
Today this person has undergoing a life term. It can be murdered or get capital punishment in future, I guessed.
A HAND OF PERSON HAVING SUICIDAL MENTALITY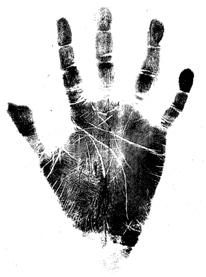 1) Cross mark on the mount of Saturn has showed unfortunate end of life.
2) Head line on hand turned to mount of moon, lower part of mount of moon is inflated, As had line is additionally high and mixed well with line of life at the origin, it indicated tendency to suicide.
3) As there is cross mark on mount of mars it showed short tempered and angry nature.
4) A gridle of Saturn is shown on mount of mars. If such sign is on hand, this person is not ambitious. He is having unstable mentality. There are frequent obstructions in progress. So get tired to life.
5) As life line stops suddenly, a danger to life is possible. (The concerned person was from the village in Jamner taluka in Jalgaon district. He struggled lot of at the age of 66 years. Frequent thoughts of suicide came to mind. When he came to me I tried to alert him. Depression and unenthusiasm were seen in him. His bearing capacity was over and after some days news about his suicide got through his friend. My conclusion over this is like, when average life struggle has become unbearable, that person has committed suicide. In fact, that person had committed this act in short moment, but think about the situation. When he felt that there is no hope, then he think it proper is to bring curtain down on his drama of life.)
Generally the hand of person having murderous mentality is hard. His thumb is lengthier. Its joints are rough so it cannot be bend backwards. All these symptoms are showing the mentality of greed. Such person do not think about inner consciousness when he want to get all what he like. Bad mentality of man has grow more, in that quantity his head line get mix with intuition line and make its effect on it.
1) A single line of heart line and head line. It means the confusion of intelligence, guess and emotions. So there is secret and strange behaviour.
2) A double head line over each other and a simian line after mix with heart line show double standard in behavior.
3) Two gridles of venus on hand have shown bad addictions since childhood,drinking habit and restless mentality.
4) The Via Lascivs line shows the rise in the mentality to consume addictives like liquor and abnormal growth in sexual desire. As this line has headed to mount of venus, the growth is on that scale, which will effect to reduce the length of his life.
5) As marriage line gets connected with heart line, it showed painful married life.
6) While life line is progressing, a vertical line is seen on it and then life line has divided. There can be danger to life due to this.
7) Cross sign on the mount of Saturn has showed possibility of capital punishment or murder.
(According to this person murder is an art and he is expert in it. This person has certainly involved in murder after thinking carefully. So he acquitted from the murder case for two times; but what is next?)
HAND OF RENOWNED AND SUCCESSFUL CINE ACTRESS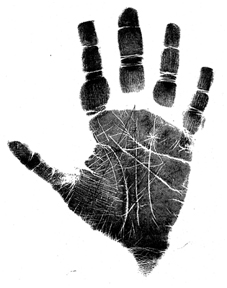 1) A distance is seen between life line and head line. It means confidence, overconfidence, unnecessary freedom, tend to have friends of opposite gender and mentality to find others' faults.
2) Desires are fulfilled due to cross mark on the mount of Jupiter.
3) Head line starts at mount of Jupiter and as it is straight its intelligence has seen.
4) Line of sun has originated from mount of the moon. Lots of popularity has got due to it.
5) There is nakshatra sign below the mount on line of sun. Respect and prestige have got due to this.
6) If marriage line cuts at the end, it showed there is anguish between husband-wife and divorce.
7) Four-five marriage lines on both hands mean love affairs with many or physical relation.
8) A single division from head line to heart line has showed affection to a certain person.
9) Line of fate has originated at the age of 20. It means started to earn money.
10) Luck will be favourable at the age 23. A fast progress at the age of 24, 25, 26, 27, 28, 29 and 30. Respect and prestige will be enhanced in society.
11) Age 31 indication of chance of marriage. A period of trouble at the
age of 32, 33 and 34. Incidents like court case
, ill-fame and divorce are indicated at the age of 35, 36.
12) Fate will start favouring at the age of 37. Age 38, 39, 40, 41 to next period life will be happy. Lots of money will get. Success and popularity will be get. Many persons will arrive in life, but do not get happiness.
[The concerned cine actress has known as no. 1 heroine in Hindi film industry. A news about her love affair has been heard every one or two months . Currently her age is 27. Next future will happen as I explain, I guessed.]